2015 Hīpuʻu Camp Waipio


2015 Hīpu'u Camp Kona


Please
click here
for information about Camp Kona.
2014 Hīpu'u Camp Honua
For our introductory camping trip, we are excited to have the use of the Boy Scout service center in Keaʻau. Please check back soon for the updated activity schedule.


Camp Honua: Activity Schedule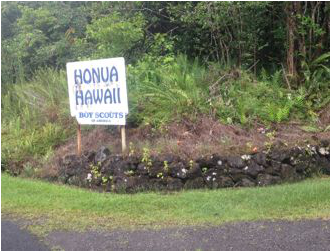 In order to effectively teach everyone and provide one-on-one help if needed, we have divided the students into two groups based on grade level. We will host:


Grades 4-8 on August 4-5, Monday and Tuesday, and

Grades 9-12 on August 6-7, Wednesday and Thursday

Camps are scheduled to end at 4pm on Tuesday and Thursday afternoons. As with all Hīpuʻu camps, families are welcome. Please feel free to bring a family tent and participate in the activities.


We have two general goals for the first week of school. Students should leave camp feeling confident that they can use their computers to access their school work, their teachers, their classmates, and online resources. Students will also get experience viewing Hawaiʻi Island communities as not only educational resources, but places where they can actively contribute.

PLEASE try to arrive on time at 8am, Monday & Wednesday mornings! We have so much to do in such little time. It will help us tremendously if you we can all start together. Please eat a good breakfast before you arrive at camp. The school will provide all other meals and healthy snacks. I have attached a list of required camp gear and a link that will allow you to tell us your intent to participate.


ITEMS TO BRING: Please label all items!

PLEASE DO NOT BRING ANY FOOD ITEMS THAT CONTAIN PEANUTS.

SLEEPING GEAR: Small pillow, sleeping bag, sleeping mat/mattress. Honua has sheltered, open air hālau, but feel free to bring a tent if you prefer.

TOILETRIES: shampoo, soap, deodorant, toothpaste, toothbrush, wash cloth, brush/comb, rubber bands/clip, q­tips, etc.

MEDICATION: as needed. Also bring: sunscreen, mosquito repellent, lip balm, flashlight and/or lantern w/extra batteries.

Girls: monthly sanitary supplies if needed

EATING GEAR: camping plate, plastic bowl, cup, fork, spoon. 1 labeled water bottle.
We will NOT use disposable paper products. If you require special diet considerations, please let us know ASAP.

CLOTHING: 1 light jacket/sweatshirt, 1 towel, cap/hat, walking shoes, rubber slippers, tabis/reef walkers, socks, sleeping clothes, 1 change of school clothes that you wonʻt mind getting dirty, bathing suit needed in order to shower at the park

OPTIONAL: Pareau, 'ukulele, guitar, musical instruments, hula implements, camera or other digital recording device

The use of any illegal substance will not be allowed. No sexual misconduct or harassment is allowed. All safety and health rules and policies will be enforced and a NO TOLERANCE rule will be in effect at all times, at the discretion of the coordinating staff and volunteers. Students and adults will be asked to leave the camp immediately, upon infraction.